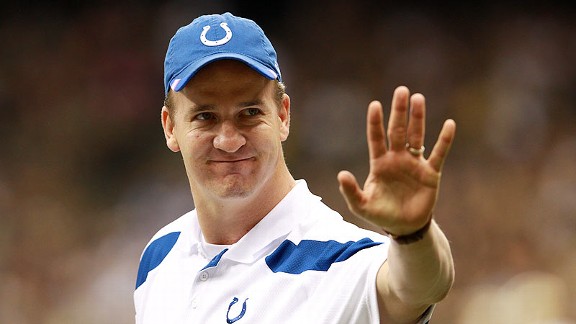 Rick Reilly recently wrote an
article for ESPN
about Peyton Manning thanking him for the way he's done things; not showing up in the tabloids, saying sir and ma'am, not getting in fights, to name a few. Reilly does a great job listing the many ways that Manning is at the very least a great role model for America's youth. I like the article and like Manning so I'd love for you to go read it. I'm sure most people would agree that Manning has shown himself to be a class act throughout his career and especially now as he transitions to the Denver Broncos (as a longtime Broncos fan I couldn't be more excited; his press conference photo with John Elway and Pat Bowlen is my current desktop background, much to my wife's dismay).
As much as he's been in the spotlight over the years I really do not know that much about Peyton Manning's personal life or beliefs. In a video clip of him talking to kids at a football camp and a small snippet from a radio interview Manning stresses the importance of a relationship with God. His actions seemingly demonstrate that this isn't just something he says.
In my dreams as a kid I was a wide receiver in the NFL and had they come true I'd likely be catching passes from Peyton Manning. Instead I have nothing in common with Manning except that we serve the same God. In my relationship with God I've learned many things, but two truths in particular are on display in Manning's life and I try to make true of my life. First, we are all ultimately working for God himself, and second, God is the one with the plan.
Manning is notorious for being a hard worker. He's always studying film and working with his offense to perfect his craft. Some of this drive could be built into his genetic makeup, but could also be driven by this truth. Regardless of whether or not you are wired to be exceptionally hard-working or not, realizing we are working to bring glory to God should give meaning to any task we are assigned, even the menial ones like picking up trash or doing the dishes.
The second truth is profound and deeply impactful to so many aspects of life. Peyton Manning was bombarded with many questions during his introductory press conference. One line of questioning dealt with the personnel that he'd want the Broncos to try to sign. His responses were something like "I trust the Broncos staff do make the best decision for the organization." Instead of getting worked up and meddling in areas that he ultimately does not have control over he can be at peace in knowing that he will work hard and that his success or failure is ultimately up to God and the plan He is executing for His own glory. This confidence in God's control frees us from so many distressing thoughts and allows us to focus on our own obedience to God.
I like Peyton Manning. I am extremely hopeful that he'll help the Broncos win another SuperBowl or several in the next 5 years that he's under contract. I'm also hopeful that he'll reflect Jesus well to the Broncos organization and its fans.